Capturelife, Inc., the leading provider of enterprise mobile marketing and commerce solutions for experience economy brands and memory businesses, announced the appointment of Vincent van den Berg, former Founder of Adventure Photos, joins Capturelife to drive expansion into Latin America, as Head of Business Development for Latin America.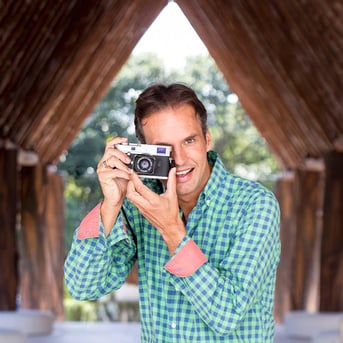 Vincent's professional photography career spans 20 years working with major brands in the cruise, resort, and attractions industries. After moving to Mexico in 2007, Vincent joined The Adventures Group, the world's premier leader in adventure tours and services. At The Adventures Group he developed the company's highly successful concession brand Adventure Photos, which he grew from one to 52 resorts in a remarkably short four-year timeframe. Vincent led photography operations and sales, product and brand development, and marketing for such iconic brands as Vallarta Adventures, Dolphin Adventure, Cabo Dolphins, Cabo Adventures, Adventure Weddings, Dreams Resorts, Secrets Resorts, Iberostar Resorts, Solmar Resorts, Pueblo Bonito Resorts, and Villa Group.
In 2013 Vincent left The Adventures Group and created his own award-winning destination wedding photography business, Pixan Photography. In 2017 Vincent was nominated as one of the Top Ten Wedding Photographers in the World and honored as #1 in Mexico.
While the attraction and resort market has been severely impacted by the COVID-19 pandemic, Latin America represents a strong long-term opportunity. It's popularity as an attractive destination for travelers has grown since the beginning of the last decade. In recent years, the region experienced an increase of nearly 55 percent in international tourist arrivals and now represents an $89 billion industry.
"As we expand into Latin America, it's hard to imagine a more talented and connected experience economy professional than Vincent. His wealth of industry knowledge and deep relationships at the highest level of these organizations will open up tremendous opportunities for Capturelife," Tim Bates, Capturelife CRO explained.
When Vincent discovered Capturelife, he was immediately drawn to how the platform leverages the power of memories to unlock more strategic value for experience creating brands. "It is so refreshing to see a company that understands the strategic value of the memories people create from experiences they enjoy," explained Vincent. "In addition to generating direct revenue from captured images and video, Capturelife uses that content to keep customers engaged with the brand, increase loyalty, and drive people to return in the future."
Looking for ways to future-proof your business?