A new, transformational experience is bringing the joy of the largest youth soccer tournament experience to youth athletes, coaches, parents, fans and team sponsors
In its 35th year, the USA CUP is truly a global event. With a new title sponsor, Target, and hot off the heels of the 2019 FIFA Women's World Cup, this year will prove to be more exciting than ever.
The Target USA CUP will take place July 12-20 at the National Sports Center (NSC) in Blaine, MN welcoming 1,152 teams from 22 states and 20 countries – it's the largest youth soccer tournament in the country. Teams, coaches and soccer players travel from around the world to take part in an Olympic-like experience – with opening and closing ceremonies, events and player and fan attractions around the NSC.


Once again, Capturelife will be there, but in a bigger and better way, supporting CLIX MN in their vision to revolutionize the event for fans, sponsors, players and coaches – and her business.


Thinking creatively to make customers, fans and athletes happy.
Sandy Pawlynszyn, owner of CLIX MN, has had the exclusive contract to photograph teams during the tournament for 9 years. For Sandy's business, the Target USA CUP is considered her marquee event of the year – and every year she looks to add value to the tournament experience with her services.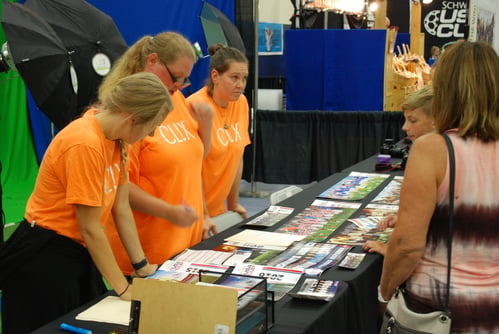 Last year, Sandy introduced an exclusive Capturelife video story experience as part of her package for registered teams. This engaging and motivating video captured the pageantry of this event, with moving footage of the ceremonies and integration of team and player stills – all set to a soaring soundtrack. This was an important introduction for Sandy to extend the experience so the sponsors and parents unable to travel could experience what the tournament was like and its effect on the teams. This video, automatically assembled for each team with a defined storyboard, was delivered to team managers and coaches – who shared it with players, parents and sponsor.
With Capturelife by her side again, Sandy approached NSC and Target USA CUP leadership to discuss new ways to capture and enhance the experience of this once-in-a-lifetime event. For the NSC and Target USA Cup, their goal is to boost team and fan engagement, ensuring that soccer programs from around the country and world want to return again and again. For Sandy and her CLIX MN business, she was looking for a way to revolutionize her approach, expand the experience for players and fans during the tournament, and boost her revenue.
Moving from transactions to experiences.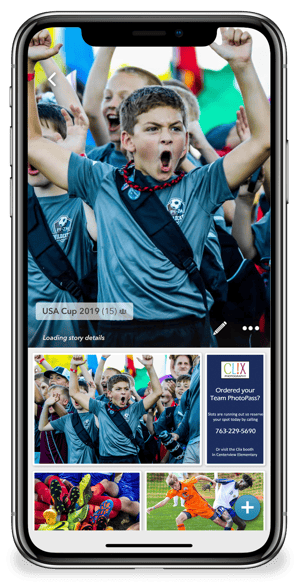 With this in mind, Sandy and Capturelife proposed a new, expanded Target USA CUP photo experience to NSC and Target USA CUP leadership. The proposal puts a digital experience in the hands of coaches and players, along with the coveted printed team posters. Each of Sandy's packages includes access to exclusive content captured during the tournament and delivered directly to smartphones, a high-resolution digital image of the team poster, and printed team posters. Higher end packages include a team specific Capturelife video story, action photos of a game and Opening Ceremony candid shots.
With the help of Capturelife, Sandy and her team are turning the entire tournament into a memorable event for all attendees. By promoting a hashtag, any fan can join in the experience, receiving a live stream of photos and memories during the event – helping them savor the action and hold onto the memories. And any fan using the Capturelife app and joining the event will also have access to exclusive Target USA Cup overlays that can be added to any professional or personal photos captured during the tournament.



"CLIX is excited to partner with Capturelife and bring a new experience to the USA Cup presented by Target," Sandy said. "The CLIX PhotoPass will allow family and friends all around the globe to share in the experiences that take place throughout the tournament. In addition to our popular team posters, our goal is to provide the highlight reel that will make these memories last a lifetime."




The NSC and Target USA Cup couldn't be more pleased with Sandy's new approach. It helps them deliver and sustain a great experience for every athlete and fan and puts the power of that experience in the palm of their hands – to share with family and friends, relive, and post on social media channels. It's a winning combination for everyone.
Ensuring partnerships thrive and business grows.
For Sandy and her team at CLIX MN, this new approach continues to support a long-standing relationship with the NSC and Target USA Cup – demonstrating creative new ways to engage athletes, coaches and fans, and add to the aura of a world-class tournament. With Capturelife at the center of a digital and mobile experience, Sandy and her team have the opportunity to engage even more customers and boost long-tail purchases right in the Capturelife consumer app. In addition, Sandy added even greater value to her tournament packages, and as a result, has been able to increase her prices and boost participation.
With an engaging new experience, all new promotions and exclusive ways to tap into the excitement of the world's largest youth soccer tournament – CLIX MN and Capturelife are sure to make this year's tournament a once-in-a-lifetime memory for youth athletes, teams, fans, and even sponsors and parents unable to attend. Watch for news after the tournament on how these exciting new packages made the tournament even more memorable, and profitable for CLIX MN.