Rob Mauldin and Reed Woodyard share their views and experience with re-opening attractions and resorts.
Back in early March when the experience industry was shuttered due to Covid-19, we were all hoping for a rapid return to the good old days. Happy guests streaming through theme parks, cruise lines and stadiums filled with die-hard fans, flights winging vacationers to far-off resorts – and all of us making memories with families and friends. But as we all know, the path to normalcy has been anything but swift.
We wanted to gain a perspective on re-opening and to do that, we tapped Rob Mauldin, Co-founder of the MagicMakers Group and Chief Experience Officer for Capturelife and Reed Woodyard, Director of Descanso Canyon Activities at the Catalina Island Company and new Capturelife customer. Together, they provide a view on how the industry has fared and prepared, how consumers are responding and what to consider moving forward.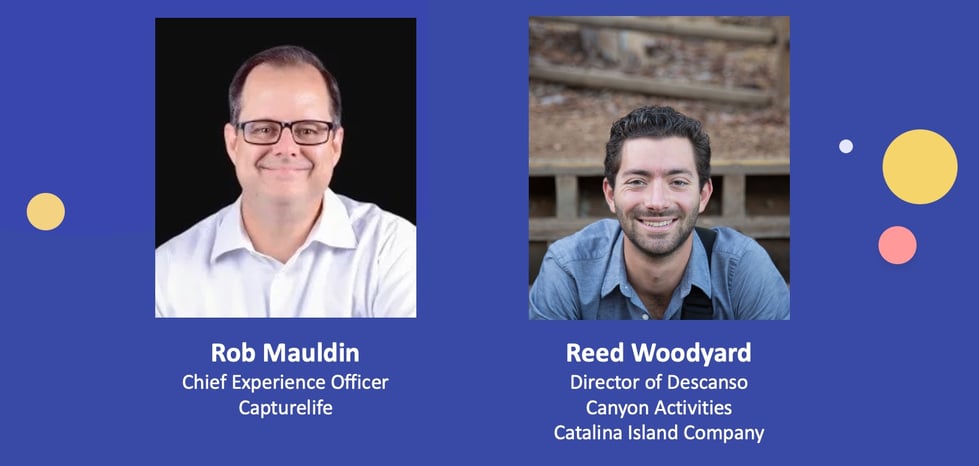 First response – business preservation.
When an industry that relies on consistently high volumes of guests goes from 110 mph to zero, unless businesses are highly diversified, options are limited. As the rapid spread of coronavirus became increasingly clear and states began to shut down, the logical first response in the industry was cost containment. Furloughs were preferred to maintain connection to loyal and valuable trained staff, but many also deferred planned operational investments.
"As March trickled on and Governor Newsom in California ordered bars, restaurants and other indoor attractions and spaces closed – discretionary travel was also limited," Reed explained. "Catalina Island and our little town was very, very quiet and unfortunately our business was faced with furloughing staff."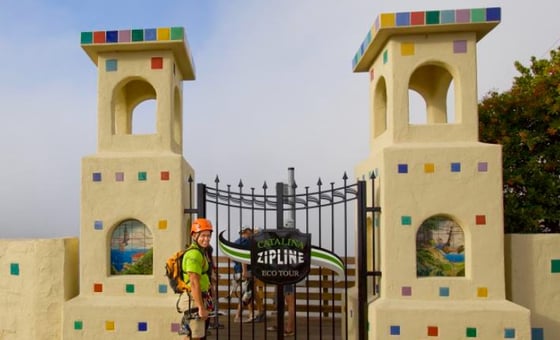 For photography operations at attractions, cruises, parks and resorts, the resulting closures were perhaps even more pronounced, with more opportunities for leadership to rethink that part of the business and its approach. Often treated as ancillary to the core business, photography operations saw more in-house layoffs and some businesses even cancelled photo operations for upcoming seasons. And it's no surprise that 3rd party photo operators suffered greatly, some teetering on the brink of survival.
"With cost containment and survival at the forefront, it was easy for owners to de-prioritize what many consider simply souvenir photography – not essential," Rob shared. "Some in-house operations were sacrificed and 3rd party operators really suffered. The question will be, when photography comes back – how can it be elevated to play a more meaningful role in amplifying the experience, adding to the business and cementing consumer loyalty?"


Considering the steps to safely re-open.
Because there is no playbook for dealing with a pandemic of this scale, there were no standard operating procedures (SOP) in place. Experience businesses were simultaneously creating new procedures while faced with ever-changing guidance. But unique alliances were built, and operators weren't always going it alone.
"We saw competitors in the cruise industry join forces to develop a set of shared best practices," Rob said. "Restaurant, food and beverage associations were working together to share information and technology with their members. And large resorts and hotels were posting their approaches online for others to access and benchmark against."
At Catalina Island, preparations for re-opening began in May.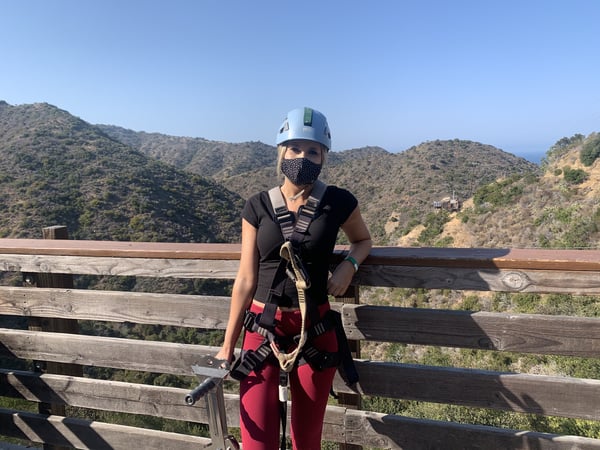 "We started by focusing on the strategic layout of our attractions and then operational improvements," Reed said. "For Descanso Canyon adventures, we developed a SOP for cleaning harnesses, helmets and trollies after each use, as well as protocols and frequency for sanitizing tablets, locker areas and railings. All of this was supported by staff training and new signage for guests."
Many live photography operations needed to be re-thought if not re-vamped to minimize or eliminate close contact, including character interactions as well as requiring guests to stay masked and socially distanced. While automated ride photography could easily continue in theme parks, some attractions took extra steps to remove photos of any guests that removed masks during the ride.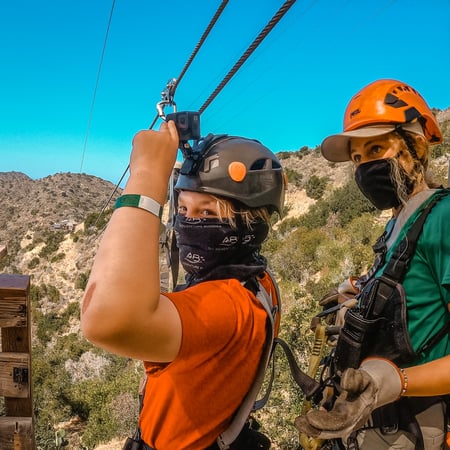 At the forefront of all of this planning was not only concern for guest safety and business reputation, but how guests would respond to new restrictions and their role in a more community-focused experience. From reduced operating capacities across nearly all operations to temperature checks, rapid Covid testing and strict restrictions on excursions for cruise passengers, to hand sanitizing stations, enforced social-distancing and masks requirements in theme parks, attractions and on rides – would the experience feel the same? And the key question – would guests willingly participate and comply with these new standards for the greater good?
The new normal emerges.
As more parks, attractions and cruises begin to restart operations, even if on a more limited scale – there is reason for optimism. In general, consumers seem to be gaining confidence to book experiences as well as accepting their role in prevention. Not only that, they are hungry for experiences that bring back joy, happiness and a sense of normalcy.
"We re-opened Catalina Island operations in mid-June and guest response has be incredibly positive. Our guests are excited – even relieved to do something that feels normal and fun again," Reed reported. "We've worked very hard to make sure guests can relax, have a great time and not worry about safety. And since many of our activities on the Island are outdoor, like the zip line and aerial adventure I manage, we're getting great response. I can't say we're back to pre-Covid numbers, but we are very busy and making strong inroads to return to where we were."
Owners and operators are also more optimistic in how they've been able to weather a dramatic shutdown and then shift to design and adapt processes to allow resumed operations.
"I see experience businesses look at re-opening as their opportunity to re-start the consumer relationship, test and perfect new protocols, build consumer confidence and begin to re-build revenues," Rob maintained. "I see optimism for business coming back, not like a rocket to pre-Covid levels, but smartly and steadily – balancing customer satisfaction with the new realities of capacity constraints, safety protocols and operating costs."
For photography operations, it's clear that businesses that invested in greater automation and direct to consumer experiences are seeing them pay off. Automated capture and delivery systems like those on Catalina Island zip lines and adventure tours, safely operated and helped add to the bottom line. Even with scaled back live photography, giving consumers direct access to their images delivered direct to their mobile phone meant those operations could continue with safety of the guest and staff in mind. And those safely add to in-experience profits – with touchless purchase and delivery vs retail photo stores at theme parks and attractions, or mobbed shipboard print galleries on the last night of a cruise.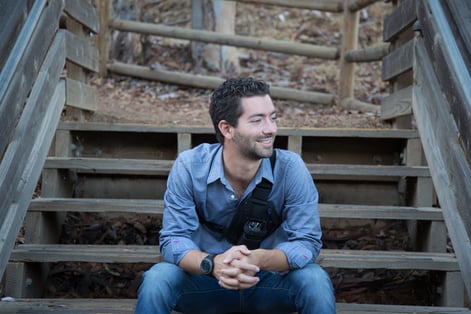 "Our photography operations leverage Snapsportz action cameras and Capturelife digital image delivery, review and purchase right on a guest's smartphone. The combination is a great enhancement to our guest experience and it delivers real value to our business," Reed explained. "The extra revenue it's generating coming out of shutdown is a great addition to our bottom line."
Looking ahead – take care of guests, employees and look for opportunities to innovate.
We asked Rob and Reed for any advice and insights for experience businesses as more of them take steps to re-open. Here are their thoughts:
The effort required to develop and implement safety protocols – and do them right – is worth it.
Keep an eye on your processes, train and reinforce the importance to staff and benchmark best practices in your industry and specific areas of operations. Diligence and attention will boost the real and perceived safety of your customers, letting them rest easy, focus on fun and keep your reputation for customer care strong.
Your employees and staff are your frontline ambassadors – treat them with the same care as your guests.
Stay connected to your staff, especially if they've been furloughed. You need them, perhaps more than they need you, to help you open and run smoothly. Treat your trained and experienced staff as the valuable assets they are. And when you are back to operating, listen and talk to them on a regular basis and ensure you are supporting them with the same policies and safety procedures as guests. Make sure you care and equip them to perform their best and deliver a stellar and safe experience when they interact with guests. It will pay dividends.
Be open to innovation – take advantage of unique assets and the new environment to build business.
Get creative. Try new programs and packages. For example, target the home-weary family with a new way to blend distance learning, remote working and pleasure in fresh, fun and supportive resort environment. And don't be afraid to pivot. If business conferences and events were a large part of your revenue, re-imagine how to use your existing assets and outdoor areas to attract new customers.
Remove friction from the customer experience and leverage new, creative ways to connect.
Look at all areas of your business and find new solutions for touchless interactions and experience delivery. Automate the capture, purchase and delivery of memories. If you have an app, look at ways to re-engage and entice past guests. Personalize communications with memories. Deliver unique branded and 'behind the ropes' content. And partner with smart technology partners to help you get there.
---
Rob Mauldin is a results-oriented, entrepreneurial leader who is passionate about delivering high quality, customer-centric experiences. As one of the most widely recognized innovators in the professional photography industry, Rob has been at the forefront of the digital revolution helping organizations navigate through rapid technological change to meet the challenges ahead. With a storied 21-year Disney career, Rob was a key executive leading the transformation of Disney's consumer photography service, Disney PhotoPass, at Disney theme parks around the world. Rob brings that experience to his role as chief experience officer at Capturelife, and as cofounder of The MagicMakers® Group, a customer experience consultancy.
Reed Woodyard is Director of Descanso Canyon Activities for the Catalina Island Company, overseeing operations of ziplines, eco-tours and aerial adventures – some of the most loved and busiest attractions on the island. Situated just 26 miles off the coast of mainland California, Catalina is a secluded, serene island destination with wide open spaces and fresh ocean breezes. The Island Company was founded in 1894 by the Banning Brothers and purchased by William Wrigley, Jr. in 1919 with the goal of turning Catalina Island into a world-class resort destination. Descendants of the Wrigley family still own the Island Company today and continue to build on and enhance the vision of William Wrigley, Jr. and its long history as a first class resort company.