Opening new avenues for memory and experience businesses to expand engagement, drive more business and boost revenue with unique digital products.
We're delighted to announce an exciting addition to our Capturelife customer portal – Capturelife Marketplace. Capturelife Marketplace puts all new digital products and smart business strategies at your fingertips, giving you the power to increase your connection with consumers and deliver dynamic products to grow revenue.
With a full slate of unique Capturelife offerings along with 3rd party products, Capturelife Marketplace gives you access to new tools and digital strategies that complement your current photography operations and offerings –helping your business grow in new directions. Just like unique print products and strategies, you can leverage these digital products and proven methods to keep today's digitally savvy parents and consumers engaged, connected and purchasing more from you.
Explore, learn, diversify – and earn easy money.
When your lab or your vertically integrated business subscribes, Capturelife Marketplace will automatically appear in your Capturelife portal. There you can browse, review product details, watch educational videos and choose from a full range of Capturelife and 3rd party digital products to help you expand and diversify. When you determine your strategies, you can enable the products you wish to offer and activate them in the appropriate jobs. Our customer success team is always happy to talk through your particular situation and recommend appropriate products and strategies that supplement digital and mobile image delivery to help you boost profits.
More smart ideas to move your business forward.

Capturelife Marketplace is a perfect combination of unique digital products and smart marketing strategies to help your business grow. Here are just some of the initial offerings that will be available:
From Capturelife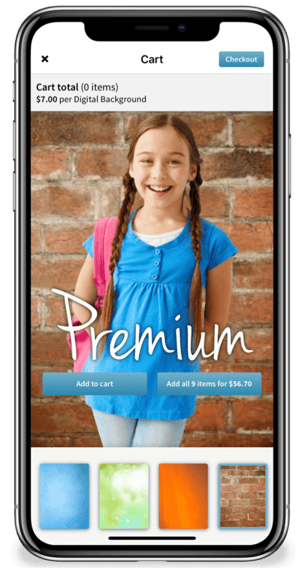 Digital Delivery – Capturelife digital image delivery direct to consumers smartphones is the backbone of Capturelife Marketplace. It's the modern, mobile experience your customers have been waiting for. You can do away with the hassle and expense of CDs and gallery downloads and give your business a lifelong connection to your consumers with more ways to keep them engaged and buying more.
Additional Poses and Shots – Activate this option to entice pre-paid parents and consumers to buy additional poses and images beyond the initial purchase. This strategy has been extremely successful with sports leagues, attractions and events to spur more purchases and grow revenue.
Background Options – Now you can give consumers the option to purchase premium backdrops for their digital portraits. Capturelife offers both Green Screen and Dynamic Knockouts – chose the option that best fits your operations. You can upload your own backgrounds or select from Capturelife's growing selection of premium backgrounds to give your consumers the choice they want.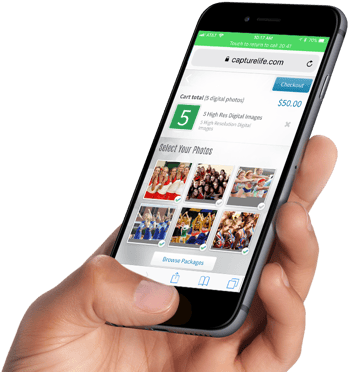 Non-Buyer Purchasing – A proven strategy for pre-pay volume and experience photography businesses leverages an unpurchased digital image delivery to turn your non-buyers into buyers. Successfully used by many current Capturelife clients, this ensures your business gets the most engagement and captured revenue from every picture day and photo experience.
Smart Events – Capturelife Smart Events opens new opportunities to easily generate revenue from proms, military balls, sports competitions, concerts, shows and more. With a unique hashtag for your event, consumers can opt in, browse their photos and images of the event and buy – delivering increased profitability from your engagements.
Video Stories - Automatically transform your professional digital content into short, polished videos with unique styles, transitions and music. Great for sporting events and tournaments, shows, concerts, graduations and attractions. The process for creating videos meets your operational demands by greatly reducing the time and expense required to design and deliver a high-value, professional product.

From 3rd Parties
36pix Backgrounds – Offer consumers these premium backgrounds from 36pix, selected based on sales performance and popularity. Perfect for photographers shooting green screen. Sure to be a hit with your consumers and drive revenue for your business.
36pix Be Part of the Story Backgrounds – An exclusive tie-in with Ocean Unite non-profit means that any background purchase from this set will inspire your consumers to feel good while doing good. You retain your profit while a portion of each purchase goes to support ocean conservation.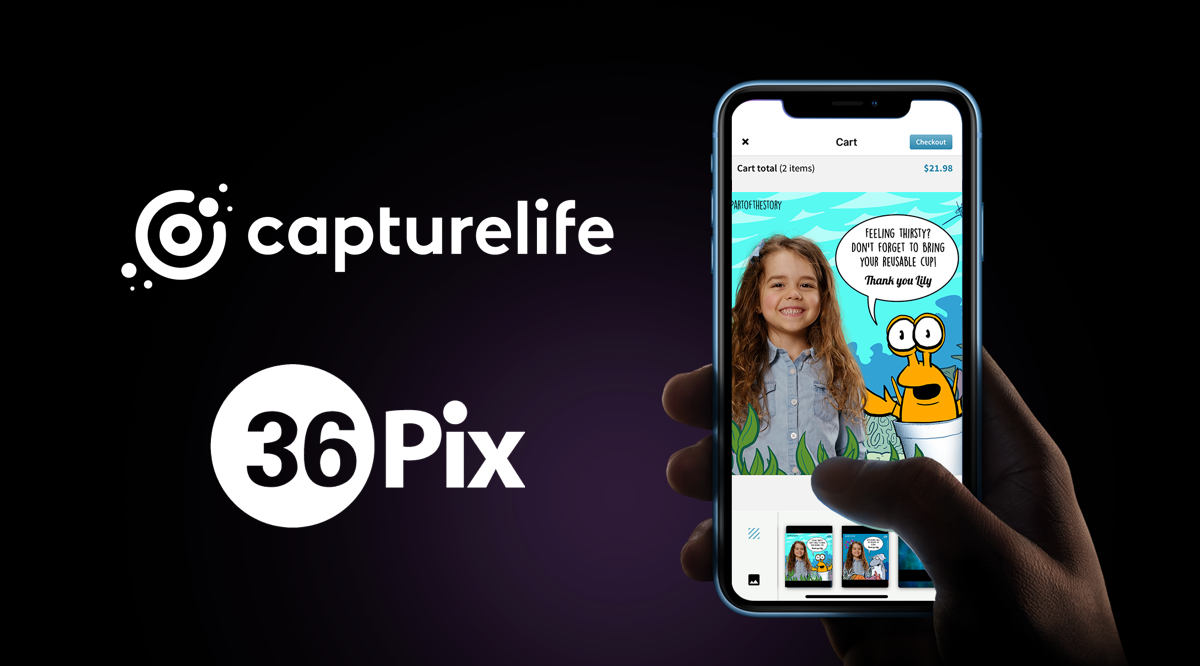 This is the start of something big.
Remember when you started adding unique print products to supplement your standard photo packages? Now you can get your business in step with today's millennial consumer and do the same with digital. Expand your repertoire, entice your customers, and grow your revenue in fresh ways.
Current offerings in Capturelife Marketplace are just the beginning. We'll be unveiling more partnerships, 3rd party offerings and Capturelife exclusive products as the marketplace evolves and continues to grow.
In use by select photography businesses now, Capturelife Marketplace will be available in later this year as a subscription service. If you're a business that works with a professional lab subscriber – you can work through their subscription for access to supplement your digital offerings. Watch for us at SPAC 2020 in Las Vegas where we'll be sharing the power of this exciting new offering to the volume photography industry – or contact us today to learn more!