We often like to think of summer as a time to slow down and of lazy days spent in the sun. Not so for Legends Photography New York. With 30-years of experience in volume team and individual sports, they're busy year-round and even expanding their business into school portraits.
For Legends, summer means competitive travel team sports and tournaments of all kinds. While Legends has traditionally shot team and individual sports, many of their customers were asking them to take action stills during several of the tournaments they shoot. In the past, they would do these largely for goodwill and customer retention.
But at GPA's most recent customer conference in Nashville, a new idea emerged that would change the game for profiting from action photography: CaptureLife Smart Events.
Digging deeper – how CaptureLife Smart Events works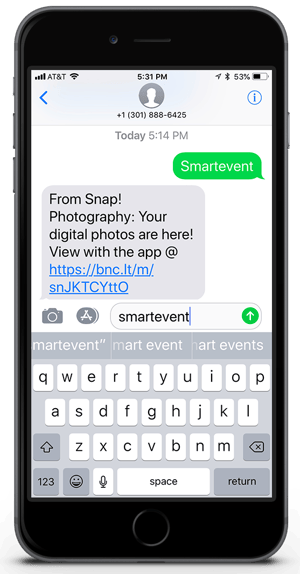 The CaptureLife Smart Events feature allows sports action, marathon, dance, concert, show, wedding, and any really any event photography business streamline their operations and connect more powerfully and more immediately with their customers.
Those images land directly on their smartphones in the CaptureLife App, which functions as a powerful viewing and purchasing platform. Customers view and purchase images with the tap of a finger while giving the photographer access to more potential customers without needing a face-to-face interaction! With Smart Events, the photographer leverages a text-in phone number and a pre-determined hashtag associated with it. When a customer texts in a hashtag, such as "smartevent" to 301-888-6425 (give it a try!) they receive a text back letting them know that their images will be added or are ready to view.
So, how did CaptureLife Smart Events work for Legends New York?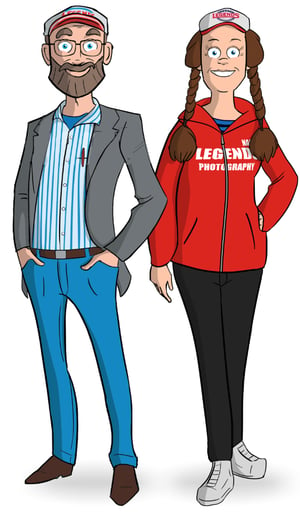 When CaptureLife spoke about this new feature at the GPA conference, Legends New York co-owners Christina Murray and Randy Bince decided then and there that they needed to try it out. They saw Smart Events as a cleaner, more convenient solution vs. a gallery site where their customers would need to wade through a myriad of folders and teams. And they thought Smart Events just might be that "frictionless" solution to spur greater interest and sales for those action photos many organizations were asking them to shoot.
Just a few weekends ago, Legends was the official photographer of the Long Island U9 – U19 championship soccer tournament, shooting both the champion and 2nd place finisher team photos. With 60 teams and games on both Saturday and Sunday – they knew it would be a busy weekend for them and their team of photographers.
Legends New York had done this event for 3 years, including action photos as a goodwill gesture, but never realizing much monetary success. This was their first opportunity to try doing things a new way, foregoing a gallery site and a mass email to parents and attendees well after the glow of the tournament.
"When we did this in the past, we had to wait until all the photos from all the games and teams were uploaded to the gallery site before we could send out that mass email with all the links," explained Randy Bince, co-owner. "It wasn't quick or immediate at all, and if parents can't find their photos among the 59 folders and 60 teams – there's no chance of purchase."
At the tournament, Legends New York had flyers everywhere listing all the games with a hashtag that corresponded to the age bracket – GU14 for girls U14, BU10 for boys U10. And all the parents and attendees needed to do was text the hashtag that corresponded to their youth soccer player back to Legends.
Once the games were completed and the images for each game and league level were uploaded, the CaptureLife platform automatically notified the parents their photos were available right in the CaptureLife app on their smartphone. No waiting for all images from the entire tournament to be uploaded.
"We've been doing this tournament and shooting action photos for 3 years, and this is our best year so far," said Christina Murray, Legends New York co-owner. "We saw sales almost immediately when the notifications went out, where before, sales would trickle in slowly over a 3-month period. And our sales have already more than doubled from last year, and not all parents have even had a chance to look at the photos."
And what does the future bring?
"This platform has great, great opportunities for us," Randy added. "I can look back and see numerous clients we can use this with – and capturing that cell phone number right at the event or shoot means no lost or undelivered forms. I see us adding this to more tournaments and taking on things that we may have turned away from in the past."
"This has given us a light at the end of the tunnel and shown us there may be a viable solution to increase our revenue from action photography. We now have a technology solution with CaptureLife, and it's only going to grow from here. It's going to change how we do action photography. If we can capitalize on immediate delivery at the game that CaptureLife affords us, and upload those photos right when the game is over – that will be tremendous."
Randy continued, "People love instant gratification. And mobile is king. Betting against mobile is a bet you'll lose. That's where the whole world is going. And as long as we keep the customer and user experience as our primary focus – we can't fail."
We hear you, Randy and Christina. Count on CaptureLife to help you keep the consumer front and center, help you satisfy their needs, and build your business with smart, friction-free solutions!