Capturelife sees 500% growth this fall season as professional print labs and their photography customers experience increased engagement and revenue through Capturelife.
Any good business is constantly looking for ways to stay relevant, be competitive and grow revenue – and professional print labs are no different. Over the course of many years, they've looked to new software and printers and unique products to supplement their offerings and help their professional photographers grow.
In a growing experience economy driven by social and mobile engagement, more and more labs are turning to digital image delivery to develop effective channels for their photographers to stay relevant and competitive with today's consumer. Labs are fast realizing this is the next horizon for the industry, and a new way to build additional revenue for their photographers in an increasingly digital age.
Integrations make digital image delivery an easy choice within current photo and lab operations.
To address changing consumer appetites and the growing experience economy, Capturelife developed a platform that helps labs and photographers capitalize on consumers' pivot to digital in an efficient manner. By focusing on essential integrations and partnerships, Capturelife is connected to the front-end photo order management systems like ROES and PhotoLynx and to the core back-end lab management system, like Kodak Alaris' DP2 Software.

Capturelife's ongoing partnership with Kodak Alaris and the DP2 integration puts access to Capturelife mobile marketing, fulfillment and commerce directly within the lab's nerve center. For labs, this means that Capturelife digital delivery acts like another output device within their operations and digital products simply become additional product types. In essence, Capturelife becomes the digital rendering and mobile product delivery engine on their network.
These partnerships and integrations are essential to supporting efficient and effective operations and to open channels of opportunity. With Capturelife fully integrated into photographers and professional lab operations, it means that any photographer can easily tap into Capturelife digital image delivery and digital products directly from any lab leveraging the Capturelife platform – and feel confident that their lab can deliver both the print products they need along with new sources of digital revenue. This becomes more important as labs and photographers seek solutions to maintain and grow consumer participation, and to entice them to try and buy more.
Unique digital strategies and products to propel new growth.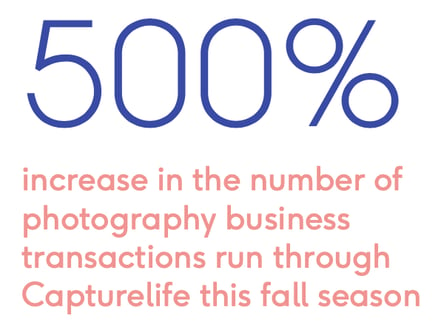 The Capturelife platform has experienced significant growth this season, which is a direct reflection of labs and photographers embracing digital as a strategy for accelerating the growth of their businesses. In fact, there has been a 500% increase in the number of mobile digital deliveries through the Capturelife platform as compared with the same period last year. The rate of In-app purchases and revenue generated has doubled from the same period last year.
Just last week, we announced Capturelife Marketplace which functions as an app store for digital photographers – giving them access to cutting edge digital products to drive more engagement and revenue. Capturelife Marketplace, available later this year as a subscription service to professional labs and vertically integrated photo businesses, means that labs now have even more unique products to offer in volume to their pro photography clients, and those photographers, with little effort or risk, can tap into more new ways to grow their business.
Chief among the offerings in Capturelife Marketplace is the Non-Buyer Purchasing Program. This unique program is a way for volume and experience photographers to wring as much profit and revenue out of the effort and costs they put into every picture day and event. The Non-Buyer Purchasing Program lets photographers take the digital images they've already captured but consumers haven't paid for and deliver the watermarked image with a text or email notification. Alerting non-buyers gives them a second chance opportunity to purchase that digital image at a price the photographer establishes – right on their smartphone. It's an extremely successful program that's been tested by several Capturelife clients already, with one customer gaining an additional $15,000 that would have otherwise been lost.
Other Capturelife Marketplace products will be familiar to labs and their clients, like additional backgrounds for photographers who shoot green screen, dynamic backgrounds that employ the latest AI technology to simplify creating that perfect knockout image and popular 36pix backgrounds. All these and more will be available for digital images, not just prints – opening new avenues to boost sales and satisfy today's digitally-focused consumers.


A modern mobile experience delivers a lifetime of opportunities.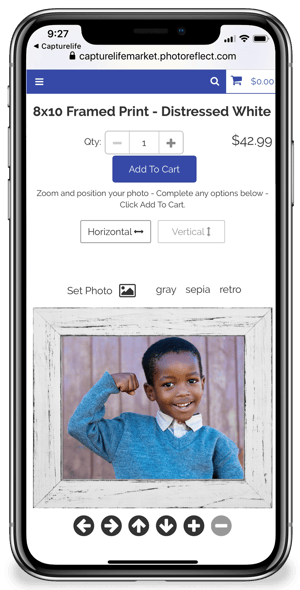 Beyond opening digital as an exciting new product through a professional lab – Capturelife delivers a modern and elegant consumer experience that creates long-tail sales opportunities and lifetime connections. Capturelife lets photography businesses create an immediate and emotional connection with memories using text and email alerts, and digital images delivered directly to consumers' smartphones. There, they can share on social media and invite family and friends to view and purchase – turning one customer into many.
With savvy labs and photographers now understanding the power of marketing, the opportunity to create a compelling and ongoing relationship with consumers becomes more real. Seasonal offers and targeted promotions can be surfaced within the Capturelife consumer app to drive more engagement and sales. Capturelife labs can surface their own print store within the consumer app, making it easy to purchase additional print and specialty products with the tap of a finger. And photographers can benefit from that additional revenue while being assured that their consumers are receiving a quality product through their chosen lab.


The time is now to grow with digital.
We're excited to help forward-thinking labs and photography businesses complement and grow their operations. The new digital age and a growing experience economy is creating dynamic opportunities to engage, connect and delight consumers. Are you ready?