Capturelife, the digital memory platform for experience creating brands, worked with the famous Dino Stroll attraction to create a magical photo experience for guests.
Dino Stroll is the only tour of its kind that takes you back to prehistoric times and experience the land of dinosaurs. Families can walk-thru and get up close to life-like and life-size animatronic dinosaurs, some standing over 25 feet tall and spanning over 60 feet long. Dino Stroll is a popular traveling show that runs year-round in major cities throughout the U.S.
When Dino Stroll was planning for their 2021 season, they knew that the guest demand for unique photos commemorating the event was high. They were seeking a way for guests to memorialize their experience, have their brand amplified by guests on social media to drive more attendance, and create a new and highly profitable revenue steam. Capturelife was a natural fit to help them meet these goals.


The Experience
Attraction companies excel are creating great experiences for their guests. In recent years, they've seen the opportunity to modernize the photo program by aligning the experience with their guests' mobile, social lifestyle. With Capturelife, the Dino Stroll photo experience is now as magical as the tour itself. The entire experience leverages the Capturelife mobile and digital platform, allowing guests to have pictures captured with the ability to purchase during and after the event from the convenience of their phone.
Dino Stroll guest photo experience
The capture stations are automated and utilize green screens to allow for the creation of a unique set of images using different themed backgrounds and overlays. Minutes after walking away from the cameras, the guests are alerted via text message on their phone that their watermarked photos are ready to view and purchase through the customer branded Capturelife web app. The process is fun and seamless and does not require any on-site sales staff or printing, thus eliminating unnecessary costs and friction.
The Results
The Capturelife digital program has been used by Dino Stroll in 14 cities throughout the U.S. with new cities being added every week. The results are compelling.
83% of people that have their pictures taken view their watermarked pictures in the Capturelife mobile web app.
43% of guests that view their images purchase their photos.
47% of guests are purchasing their photos in the days following the event from the convenience of their phone.
The average order value is close to the "buy all" package being offered to guests, proving that they see value in having all photos from the event.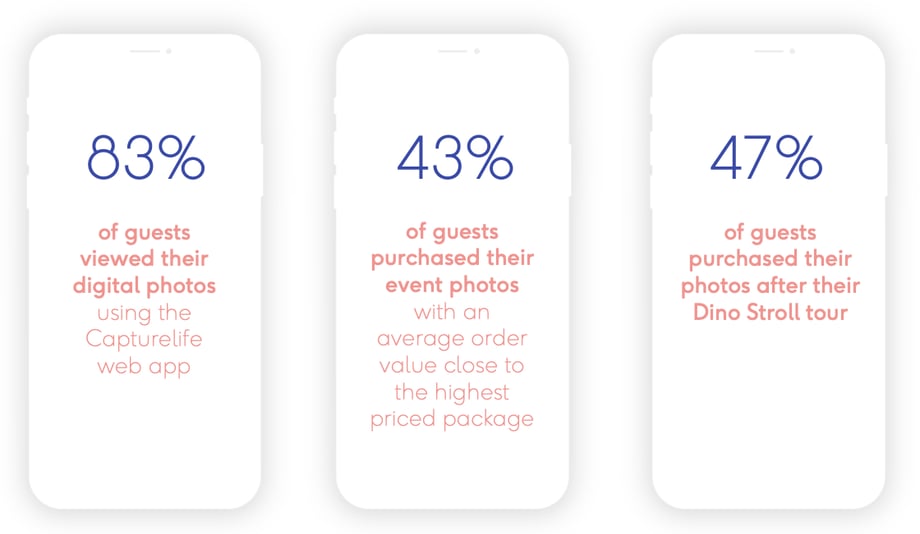 Dino Stroll has proven that when you create an experience and products that align with you're your customer's mobile, social lifestyle, you can take your business to a whole new level.
If you're interested in learning more about Capturelife, please contact us.