If your business hasn't yet adopted a digital and mobile strategy, this fall is an important time to consider how you will get in the digital game in 2020.

We're seeing an exponential increase in photographers and labs gravitating toward the addition of digital image delivery to consumers' smartphones. With mobile delivery of digital images, they've found a new and a natural way to grow their offerings and revenue.
Volume photography businesses who adopted a digital strategy in 2018 and 2019 are making big shifts from a la carte digital offerings to bundling digital with most if not all of their packages. They've discovered that the nominal fee for Capturelife on a per delivery basis delivers a strong uptick in profit margin per package.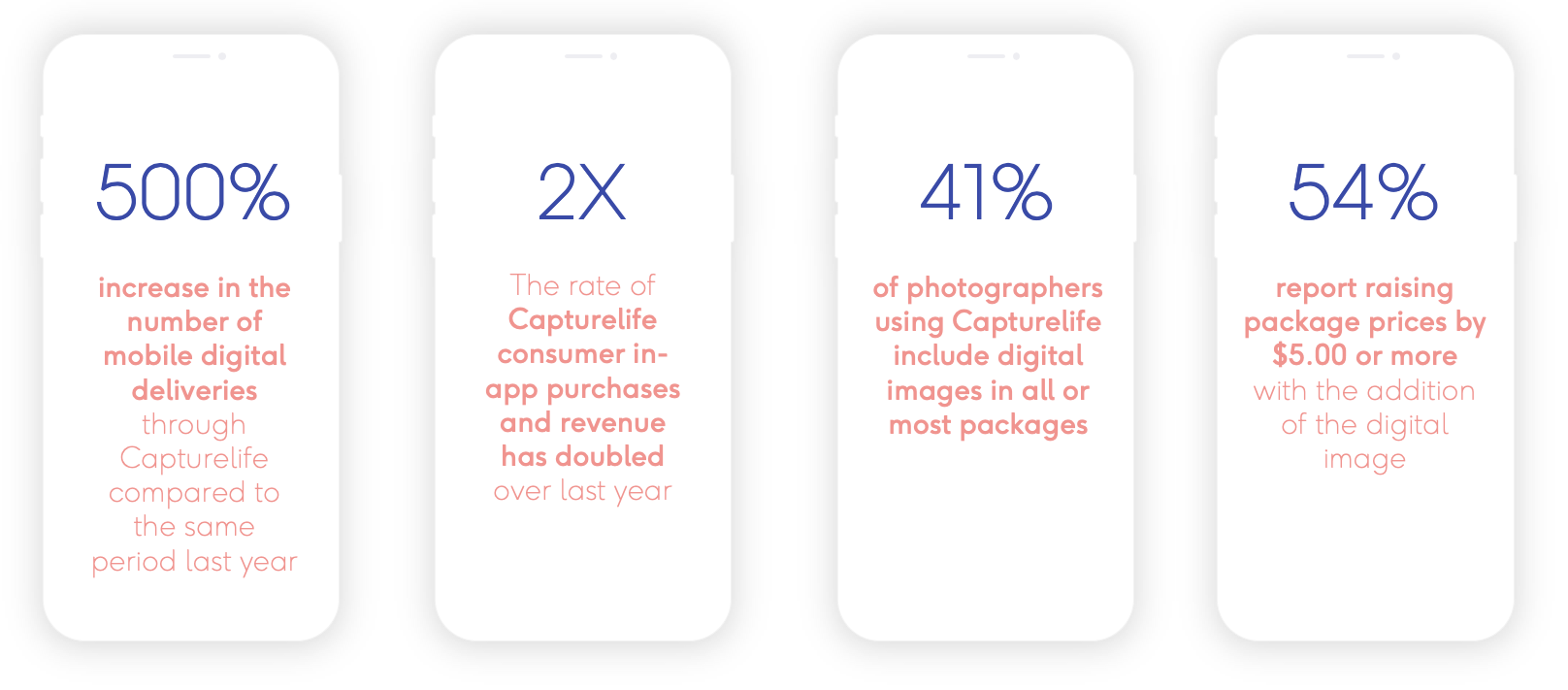 These photography businesses have realized that monetizing the digital images they already have, and that consumers want, is a simple way to make easy money.
It's easy to get started with Capturelife
Adding digital to your school and sports packages is easy, and if you work through a professional lab – it's a no risk, no obligation venture that can help you earn easy money. You don't need to change your workflow or your lab – simply add Capturelife digital image delivery to your equation this spring to help you get ready for the all-important fall season.


With Capturelife, you satisfy your traditional customer who wants print, while attracting today's digital buyer with new packages that include an up-charge for the addition of that digital image.
Leverage Capturelife to help you stay competitive
With Capturelife digital image delivery, you can honor your contractual obligations while giving yourself a digital insurance policy that helps you:
Increase your ability to earn easy money and compete in a highly competitive market.

Address declining participation rates with an engaging mobile experience that grows in value year over year with each picture they receive from you.

Protect your existing accounts from competitors with an expanded digital offering.
For a more in-depth look at how to sell Capturelife digital image delivery to school and sports leagues, our webinar gives you actionable tips and tools.
Get ready today to start earning easy money tomorrow.
With Capturelife, there's no disruption to your production processes and no significant financial investment – just the opportunity to increase your revenue, safeguard and grow accounts, and position your business to better address the desires of today's digital and mobile savvy consumer.