Pairing mobile image delivery with sophisticated chroma key technology allows us to bring premium and cause-related backgrounds to the industry. This will give photography businesses more ways to boost consumer interest and sales.
We're excited to announce our new strategic partnership with 36Pix, the award-winning green screen technology used by professional photography businesses worldwide. With this partnership, 36Pix and Capturelife are proud to bring unique background content, creating new up-sell and add-on purchase opportunities with little to no effort.


Proven for print - available soon for today's digital-savvy generation.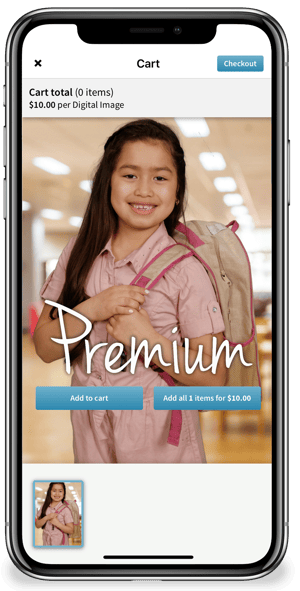 Like Capturelife, 36Pix is integrated with the same industry-leading volume workflow solutions including Kodak Alaris' DP2 software and PhotoLynx – making the move to providing new background options for digital images efficient and pain-free for photographers. For even greater ease, 36Pix' best-selling and popular background sets will also be available for Capturelife, giving photographers easier and more foolproof ways to entice parents to purchase additional options after the original sale.
How it works:
On picture day, capture your images on green screen.
In your workflow solution, include the image of the subject with background extracted along with any images the customer ordered and send to parents with Capturelife.
Those digital knock out images are delivered to parents' mobile phones with a call-to-action to view more photos.
Images are automatically rendered on the backgrounds you've chosen to offer right in the Capturelife app.
Parents select any and all they want for purchase with a tap of a finger.
You satisfy parents and make more money!
36Pix' background content will be one of the first important offerings available in the all new Capturelife Marketplace. Watch for more information about this all new resource for exciting digital products that will be available to browse and select in the Capturelife portal.


A new way for volume photographers to stay competitive and doing good.
As part of our partnership with 36Pix, Capturelife photographers can also participate in supporting an important environmental cause, opening a great marketing opportunity. At a recent retreat for growth-oriented entrepreneurial businesses, Robert Ste-Marie, CEO of 36Pix, was introduced to Ocean Unite by Sir Richard Branson, founder of Virgin Group. Ocean Unite is a non-profit whose mission is to drive positive ocean conservation action, ensure ocean resilience and achieve the goal that at least 30% of the ocean is highly protected by 2030.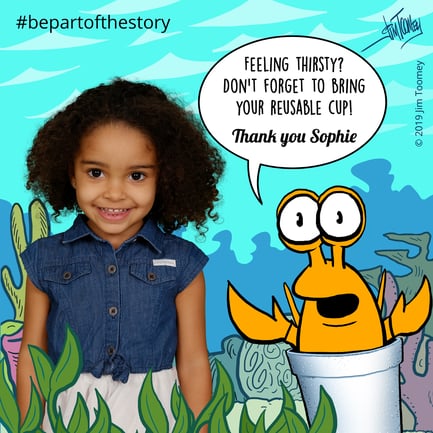 Robert was intrigued by Ocean Unite's mission and felt that the photography industry's focus on active, involved parents and their children would make a wonderful way to support the cause and created the Be Part of the Story project. To that end, 36Pix teamed with Jim Toomey – the famous illustrator and creator of the daily comic, Sherman's Lagoon. Jim created unique background options for 36Pix based on his syndicated comic. These unique background images will be available as a set for Capturelife digital images, and for every purchase, $1.99 will be donated directly to Ocean Unite while photography businesses keep their profit!
This exclusive tie-in with Ocean Unite is a tremendous opportunity to promote a worthy cause and unique product that will give volume photographers a competitive edge during the sales process with host organizations. At the same time, these unique offerings will inspire today's parents and kids to do good with a fun purchase. And this is just the start of what is planned to be a growing list of organizations and non-profits.


A strong partnership for growth.
After meeting a few years ago, 36Pix and Capturelife knew there would be a potential to connect the two technology platforms to deliver a contemporary solution to professional photographers.

"Like many in the industry, we continue to see the consumer demand for digital images," Robert Ste-Marie, CEO of 36Pix explained. "We followed Capturelife over the past few years and saw them as a perfect partner. Together, we can help spread 36Pix superior extraction and overlay technology and our new Ocean Unite cause marketing into the digital realm. These are exciting developments that will continue to serve our customers and keep them on the forefront of the shift to digital."
"We've long been fans of 36Pix and their intelligent technology," Scott DeFusco, CEO of Capturelife said. "This is a great partnership that will help expand photographers' tool set with digital and help them grow. And the tie-in with Ocean Unite cause marketing brings new depth to host sales and parents' purchases – delivering something completely unique that few could offer on their own. We couldn't be more excited about the potential for our industry."


Watch for the complete unveiling at SPAC 2020.
This fall, our integration with 36Pix technology is in test with select Capturelife photographers and labs. Watch for more news on the Capturelife Marketplace later this fall. Don't miss the full unveiling of our integration with 36Pix and Be Part of the Story cause marketing at SPAC 2020 in Las Vegas.