We hear about that massive shift in consumer behavior continuously. When you hear the statistic that younger parents, our millennial customers, spend on average 5 hours a day on their smartphones and check their phone 65 times a day, it sounds shocking until you go through some self-reflection. As a business serving this market, it's essential to get more context around these trends to ensure that you align with consumer's behavior.
To that end, CaptureLife recently commissioned an independent survey of parents from across the country with children in pre-kindergarten through 6th grade.The goal of the study was to understand how consumers expect to purchase and interact with professional photography. The results confirm what many already know about consumers need for digital images. But more importantly, they validate a significant degree of pent-up value in the market that can be unlocked by aligning with consumers' expectations. We're sharing these survey results along with some of our own CaptureLife data accrued from hundreds of photography businesses and tens of thousands of consumers.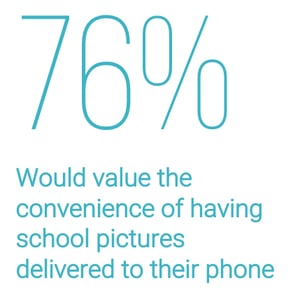 It's abundantly clear that parents want the precious images of the children in the place where they are continuously engaged, their phone. This is their new "digital wallet" – allowing them to carry their memories everywhere and share and show those memories to anyone at any time.
Takeaway: Photographers who provide the right mobile experience for their customer's memories will have the advantage.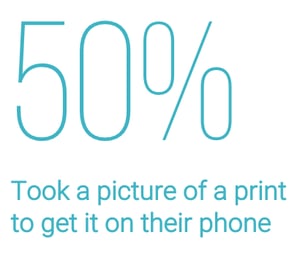 This might be one of the most interesting findings from the survey. Professional photographers are very concerned about the quality of the images they are capturing and selling to customers. The fact that parents are willing to take additional steps and make do with a lower quality version of their child's photo demonstrates a strong motivation to have them on their mobile phone.
Takeaway: Photographers can preserve the quality of their photography by making it convenient for parents to view their images on their phone.
The study also included a section on the importance of digital school portraits across several key categories. As you can see from the chart below, the top box scores of Very Important and Important show that parents place incredible value on sharing those digital images with family and friends and accessing the image whenever they need it or want it. This was followed closely by having the image on their mobile phone, ordering photo products from their digital image, and posting it on social media.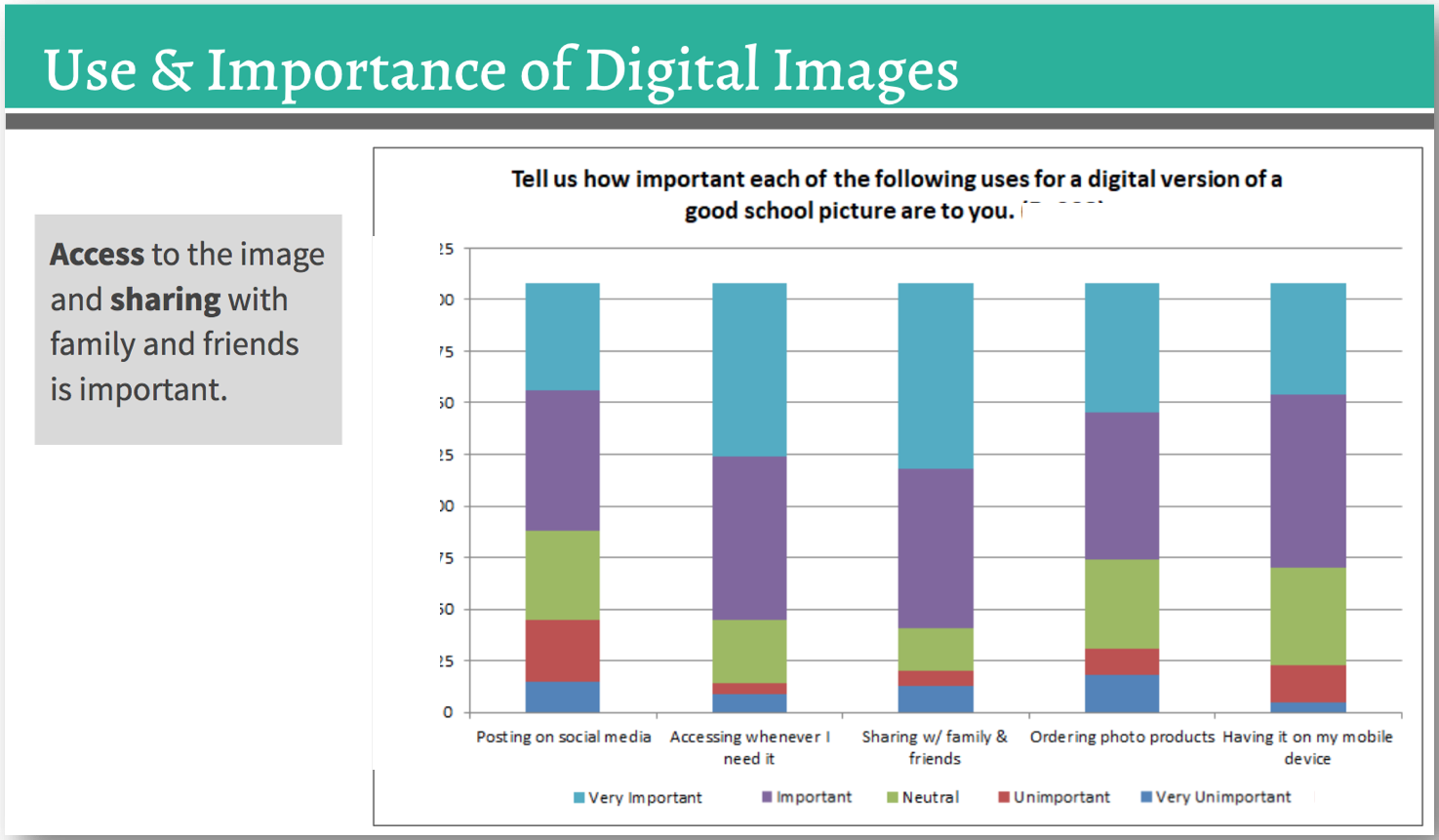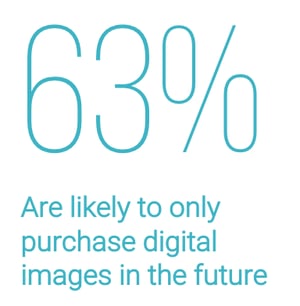 Given the rise in preference for digital images across the survey, we would expect to see this number, and it points to a clear shift in the industry. Anecdotal information to support this trend comes directly from a CaptureLife customer – an in-hospital newborn baby portrait photographer. Their customers are a young demographic, and their sales are 96% digital. It's not that the parents don't want beautiful print products of their newborn, they absolutely do. They simply want the ability to purchase the print products they want from the convenience of their phone or desktop computer.
Takeaway: The customer and business model of the future will shift to a digital-first model where convenience and choice will drive print and digital purchases.
To augment the survey results, we wanted to share a revealing statistic from our CaptureLife analytics. This statistic shows that family and friends find value in the professional digital photography that parents share with them. It also reinforces what the survey tells us – that people want to share their memories digitally and socially. Among current CaptureLife users, over 22% of people invite others to view and share their CaptureLife digital album – and we only expect that number to increase. We are particularly excited about this as a demonstration that one customer can turn into many potential buyers for professional photographers by leveraging the power of social sharing.
Takeaway: When photographers provide customers with an easy way to share digital images, they can increase their ecosystem of potential buyers.
We're excited to share these recent survey results and insights with the market. We believe they represent a strong clarion call for photographers to align their business with customers' expectations to thrive and grow.