The professional photography industry has been in a state of constant reinvention for a solid two decades, driven by the introduction of digital imaging. Digital technology is now part of the entire workflow, from capture to processing to display and storage. Not too long ago, industry revenues depended on the conversion of bits into analog images and output. As we will demonstrate, however, there's a growing opportunity to make bucks from bits in the social mobile economy we now live in.
Professional film photographers, particularly portrait and school photography, benefited from the photographer having high-end tools and permissions to get unique, high-quality photos — and to charge a commensurate rate for those skills and services. Medium-format film cameras, lighting setups and professional lab output created a closed-loop environment where profits could be defended. The photographer still had to produce high-quality work, but the barrier to entry was high enough to protect margins. There were even professional labs who would not deal with any amateur photographer at all.
That all changed with digital photography. The expansion of digital capture devices — DSLRs, compact rangefinders and smartphones — lowered the barrier to entry into professional photography jobs, as well as opening up output opportunities for online labs to compete for business.
The expansion of the digital technology means increased access to the business, increasing competition and, for some photographers, pricing challenges. According to the US Bureau of Labor Statistics, there are about 125,000 photographers in the United States, growing at a rate of about 3 percent. That estimate likely doesn't include part-time amateurs who shoot the occasional wedding on a weekend or those brides and grooms who ask a relative with a camera to capture their special day to keep costs low.
The transition from film to digital brought new capability to sell digital images in addition to printed products, however the industry never embraced the full opportunity to profit from this. In fact, digital fulfillment options like secure online albums offering web downloads, CDs, and USB remain largely unchanged since first appearing in the early 2000s. Modernizing digital delivery through a smartphone experience that fits consumer expectations in 2017 is a ready and waiting opportunity for all photography businesses to increase sales and profits. Putting control and selection into the hands of the end user is the path forward for the industry.
Envision a photography business where not only does the photographer control the content, but they also provide the customer with the freedom and the creativity they desire, with less effort and more potential for making money. Today's customer wants the use of the photographers' images at their convenience, which can make downstream monetization difficult. Handing over a disc or USB drive at the end of an event ends the relationship with the photographer and almost assures no future transactions. It's really no different than handing over prints. But it doesn't have to be that way, if the business model itself is re-envisioned as a mobile app business.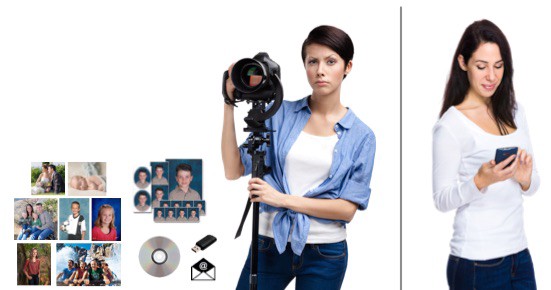 The professional photography business is overdue for disruption that actually benefits photographers. In a film-based world, clients accepted the shoot-process-output paradigm because the alternatives were not convenient or affordable. It got the job done, even though the process of sharing the final album and photo choices was often cumbersome and expensive. Even in the school and sports/event marketplace, limited customer choice and pre-paid photo packages limited buying opportunities.
We've seen this one before
In a way, photography is facing the same challenges the recorded music industry has experienced. Consumers could listen to the work of their favorite artists on the radio or on demand by purchasing an album. Most albums contained filler, as there were only one or two hits per. This necessitated the creation of the 45-rpm single.
Music eventually became digital, with CDs and later MP3 downloads creating new markets for the content. As digital music began to take off, the Apple iTunes Store created an easy and convenient way for consumers to find the music of their favorite artists, buy just the songs they wanted, and find new artists. Now, subscription streaming services like Spotify take the market even further, establishing a business for paid-for on-demand music. According to the Recording Industry Association of America (RIAA), in 2015, revenues from streaming services eclipsed those from downloads for the first time. Paid services, like Spotify and Apple Music, were the fastest growing segment of this streaming market, accounting for $1.2 billion in revenue.
The once-ailing music industry, which saw a 15 year 40% decline, has been revitalized and is now experiencing it's second year of impressive growth.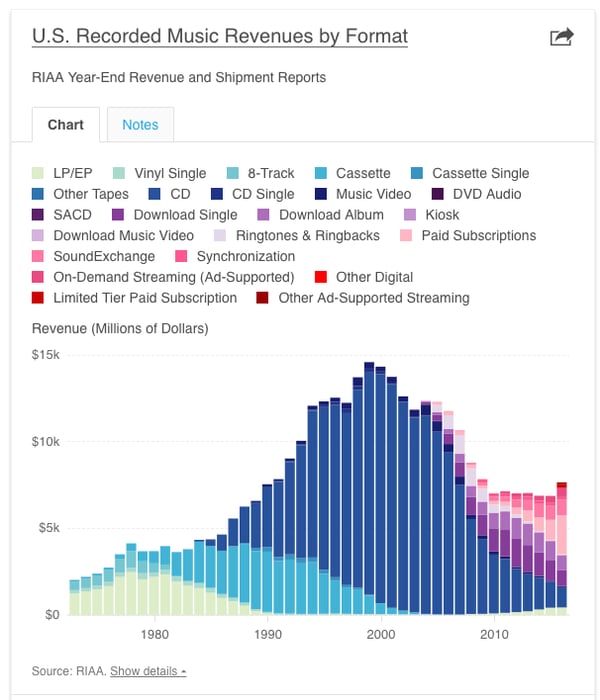 In a recent article published by The Guardian, Michael Nash, executive vice president of digital strategy at Universal records, attributes the growth in the once struggling market to a digital industry that has been able to deliver the choice and convenience consumers want.
"The only reason we saw growth in the past two years, after some 15 years of substantial decline, is that music has been one of the fastest adapting sectors in the digital world."
Here come the Millennials
As the biggest population since the Baby Boom—the Millennials—are having their first children and becoming as important as a customer base, many brands have struggled to reach this mobile-first generation. With prior generations of photo consumers, the linear transaction of shoot-process-output was followed because that was customary and expected. Millennials want to write their own rules, when it comes to media, and want it on their terms. They want to access old photos and combine them with other shared photos into collages or movies.
Millennials want the mobile shopping experience to be full-featured and complete. This trend is happening whether marketers like it or not, and they must be positioned to take advantage of a mobile-first and social-friendly strategy. Fortunately for photographers, photos are among the most-shared types of social content.
Further, there's more on-site competition than ever. Millennials often value the wedding experience more than preserving wedding memories, so they will allocate part of that wedding photography budget to photo booths, instant-print cameras and other activities. This is great fun for the reception, but those images are often lost after the event, if there isn't a way to bring them all together.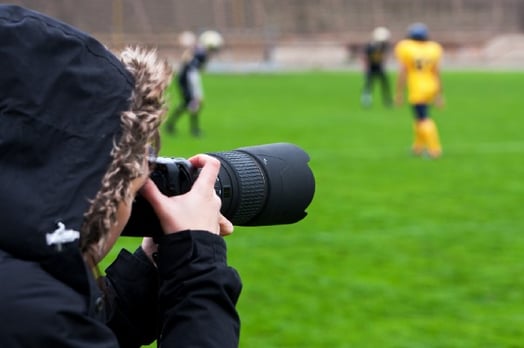 The same goes for school and event photos. Parents are prowling sidelines with long-zoom lenses and DSLRs, trying to capture that special pass, kick or goal. Student school yearbook photographers are capturing competent headshots acceptable for publication, reducing the need for the purchase of "picture day" photos. In both these cases, the professional photographer's best sales opportunity is to integrate the professional content into an easy-to-use mobile experience. The next step is to allow the photographer to engage with the customer through the mobile app, and offer unique, after-the-shoot digital experiences.
Millennials are used to having a digital voice directly to their service providers. This high level of engagement can create incredible customer loyalty and viral opportunities, which up until now, are missing from pro photography. They are just different versions of the shoot-process-output paradigm. Millennials, however, want to be themselves involved in those three steps… and more.
The opportunity
As with every challenge, there is opportunity. As previously discussed, when innovation is introduced into a market and provides consumers with choice and convenience, the market expands. The key to any successful digital strategy is to include as many on-ramps to the content as possible. The content needs to work seamlessly with other experiences, including, social media and sharing, to expand this opportunity.
Up until now, the photography monetization eco-system focused primarily on two areas:
1) Capture (fee for service)
2) Output (galleries, prints, albums, etc.)
There is, however, an opportunity to drive revenue beyond this. For example, digital downloads lend themselves to bundle offerings with traditional output. Consumers can watch a movie in a theatre or wait until it's available for rent or for steaming. If they really like it, they can purchase the movie on disc and, in an increasingly popular option, get the digital version included at a higher price. Music albums can now be bundled with extra video content to increase audience engagement. Photographers create compelling content, but have not used digital technology to increase these add-on sales opportunities.
Photographers have offered digital images as part of the packages for some time, either as a web gallery or a disc/USB drive. Getting those images, however, on their clients' preferred platform — the mobile phone — has been the missing link. Simply texting or emailing a link to a download or an online gallery is not frictionless. The image ends up in the Camera Roll, with additional steps necessary to share the professional image on social media. Further, the Camera Roll is the catch-all place for a user's photos, including mundane things like receipts, parking locations and more. That's no place for professional photography!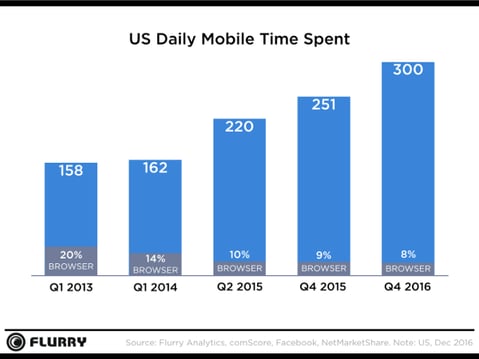 To illustrate this point, look at the current usage trends for mobile devices. As this chart shows, use of browser sites on a smartphone, like the traditional photography galleries we see being used across the industry, are down significantly to 8% and continue to decline. By contrast, the use of native apps is skyrocketing. Millennials now spend an average of 300 minutes (5 hours) a day in native mobile apps and 69% purchase through these apps on a regular basis.
This trend represents a significant opportunity for photographers. The trend is happening, but the photographer has to be in the position to exploit it.
Embrace mobile social commerce
Fortunately, whenever there is this kind of tension in a market, innovators are there to capitalize on the opportunity. One such company, CaptureLife, has developed a mobile, social commerce platform that is already making waves in the industry.
CaptureLife solves the challenges outlined above by providing a platform to interact with a client's professionally captured images, without missing out on traditional print revenue opportunities.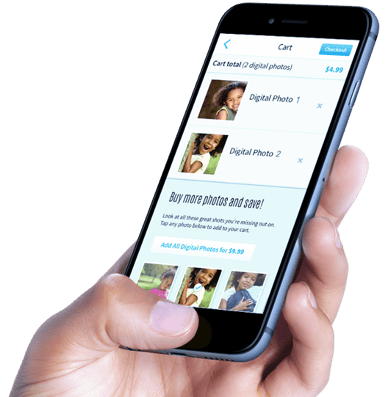 With CaptureLife, a photographer's images are delivered directly to clients' smartphones via an app using a personalized text message and email notification reflecting the photographer's brand. (The photographer has full control whether high- or low-resolution images are available to clients.) Now clients have immediate access to their digital photos from any device where they can easily share with family and friends. Further, with CaptureLife, clients have the opportunity to proof and to purchase digital photos and print products directly from their phone; coupled with easy sharing, the monetization opportunities only increase as more family and friends interact with the images. Video is supported, too.
Because of the usefulness of the CaptureLife feature set, using the app is not a one-off opportunity, like the event-specific photo-sharing apps. CaptureLife is designed to be the on-device home for professional photography purchases made over time by a family. As more images are delivered to the CaptureLife users' account, the more valuable the collection becomes. This gives photographers, for the first time, the opportunity to participate in monetizing the lifetime value of their clients' photos. Also, users can receive photography purchases from any photography business within their single CaptureLife account.
To carry this forward, CaptureLife has an in-app marketing program, where photographers can message customers with custom promotions after the event. This allows the photographer to move beyond a simple transaction into relationship marketing with their most valued customers.
Conclusion
While CaptureLife is a relative newcomer to the industry, the company has seen real-life sales growth from all types of photography businesses, including print labs, who have integrated the platform into their workflow. It's clear that photographers are seeing the need to innovate and are using the platform to drive business change and growth.
Whatever technology or business model you adopt, surviving and thriving in the professional photography market will be dependent on your ability to align the customer journey and products with consumers' expectations. The companies that recognize the mobile/social landscape will have a high growth opportunity in front of them.
To learn more about CaptureLife
If you want to learn more about the CaptureLife platform, you will find their overview video and more info at www.capturelife.com.

Article written by Gary Pageau. Gary is a veteran photo-industry marketing-communications and publishing executive, is principal of InfoCircle LLC, a content-marketing company serving local and national clients. Prior to starting InfoCircle, he was Publisher, Content Development and Strategic Initiatives, of PMA — The Worldwide Community of Imaging Associations.