Dan Zahler, owner of Zahler Photography in Annandale, Minnesota, first heard about CaptureLife during a PhotoLynx webinar in late 2016. At that time, he didn't think about it as an option for his business.
Weeks later, Dan was sitting at a table at the SPAC convention next to none other than CaptureLife CEO, Scott DeFusco. Others at the table were all over the idea of a new digital technology to deliver their volume images. The conversation grew, and the idea of innovation in the industry caught Dan's attention. He thought to himself, "I should probably revisit the scenario."
Not more than a few weeks later, Dan and his Lab Manager Jodie were off to the races delivering their first CaptureLife digital images.
A Successful, High Volume Business Transitions Away from Time-Consuming, Outdated Technology
Zahler Photography is not what you would call a small-time operation. Besides the 16,000-18,000 underclass photos that they take, the Zahler team also captures sports, graduation and family portraits. And, they self-fulfill print orders with their own in-house lab.
Over Zahler's 30 years of business, they have gone down the line of technology and ultimately chose to purchase and use high output CD burners to fulfill their technology gap. "Our system worked well, but most of our customers can't use CDs anymore," Jodie explained.
Once they made the switch to CaptureLife they noticed a few interesting things. "It only takes me a couple of minutes to send out all of our CaptureLife orders," said Jodie. "CDs used to take me a half an hour-hour to print. I can do CaptureLife within 5-10 minutes". And this is exactly the point where Dan realized the CaptureLife effect. Zahler now spends less time, less money and have far less hassle to deliver their customers a much better experience.
Integrated, Seamless Workflow Saves Time, Money and Headaches
Zahler Photography is also a PhotoLynx customer using ImageMatch software. Since CaptureLife is integrated seamlessly with ImageMatch, it serves as their one-stop shop for data entry – and that makes a huge difference in their workflow. Zahler enters all their information in one place, and they send that same information to their own printers, other labs when they need to, and most importantly for this article's purpose, the CaptureLife app on their customers' smartphones.

The integration of ImageMatch and CaptureLife makes the entire process so much easier. Before CaptureLife, Jodie would send all their digital content directly to their CD printer, and then sit and wait until the printer wrote all of the images onto a CD. Then, all those CDs would need to be matched and packaged correctly for every individual customer. (Wow, just writing that out seems like a long process!) Now Jodie has time to work on other projects and is able to fulfill even more digital orders, often in ¼ of the time!
The Best Way to Deliver Images. An Even Better Way to Stay Connected with Customers.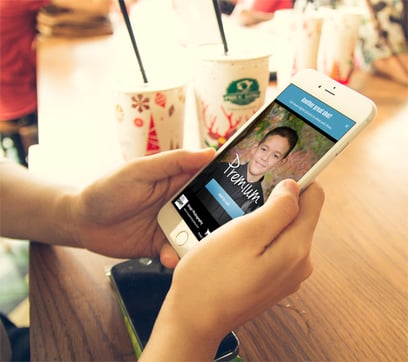 Zahler Photography realized how awkward and outdated thumb drives and CDs truly are. Either route affects their internal workflow as well as how their customers interact with images. After using CaptureLife direct delivery to a customer's smartphone, they've seen even greater advantages that outperform browser-based galleries, as well. A web gallery may facilitate downloads, but there the transaction ends. Sharing and printing are all cumbersome experiences in a mobile browser, rather than an optimized app.
With CaptureLife, Zahler can maintain on-going connections with the images and the user, leading to additional revenue. And their customers benefit from having one platform for viewing their professional photography products, rather than a CD, thumb drive or web gallery for each. School portraits, sports photos, and wedding/event pictures can all be conveniently viewed, shared and monetized within the same CaptureLife app.
Transforming the Customer Experience and Looking to the Future
Zahler's customers are receptive, too. As they began using CaptureLife for digital delivery and fulfillment, people would sometimes ask what the difference was from using a CD.
"We tell everyone how wonderful CaptureLife is, and how they are going to be able to keep using it though all their children's years of school," Dan said. "When graduation comes, they will have each one of those years right there in their CaptureLife account. I think it's an awesome product and I'm very proud to offer it to our customers."
And since adopting CaptureLife, their customers have made incremental print purchases directly through the app, resulting in new revenue Zahler would never have seen from CDs.
"Right now, we're just scratching the surface and using CaptureLife to replace CDs. We wanted to jump on that right away." said Dan. "This coming year, we're looking forward to offering digital combined with print, as well as more products to our customers through the app. That's going to be our next evolution, and we're looking forward to it."

About the Author
Zach Hahnen is a digital-first photographer and co-owner of All Pro Photo, Inc. sports photography, and Customer Success Manager at CaptureLife.