Miller's Professional Imaging to provide the CaptureLife private Photo Sharing App to millions of consumers currently receiving Miller's and Mpix print orders.
Minneapolis, MN – October 2, 2017 – CaptureLife Inc., provider of the CaptureLife Photo Sharing App for iPhones and Android Devices and the CaptureLife digital delivery, commerce and marketing platform for imaging professionals, has partnered with Miller's Professional Imaging.
The largest professional photography lab organization in North America, Miller's will be using the CaptureLife Photo Sharing App as its standard method of delivering digital images to the millions of consumers it provides prints to annually. The firm will incorporate CaptureLife's digital delivery and marketing platform to all its professional photographer clients. In addition, Miller's will roll out the CaptureLife private Photo Sharing App to the millions of consumers using their Mpix print store for extended photo storage and easy mobile ordering.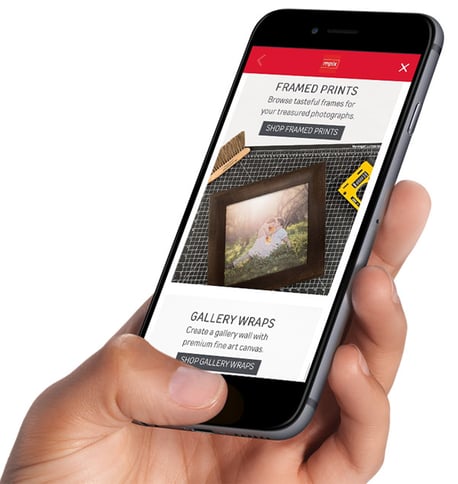 "CaptureLife represents a dramatic pivot point for the photo industry," said Todd Coleman, President of Miller's Professional Imaging. "Digital imaging has been driving reinvention in the photography industry for nearly 20 years. As one of the digital innovators and leading digital print suppliers in our industry, we see CaptureLife offering the next evolution in this journey and are excited to partner with them."
Miller's saw that CaptureLife had created a unique social and mobile experience for pro photographers and the consumers they sell to. Todd explained, "Not only does it address the need for a better initial digital delivery mechanism in a world that runs on smartphones, CaptureLife's marketing platform also keeps the photographer, print lab, and consumer connected after the initial delivery through in-app promotion messaging. This on-going connection with the consumer creates real benefits for them, while driving more revenue for us that we are able to pass on to our photography business clients."
Scott DeFusco, CEO of CaptureLife said, "We are excited to work with a world-class organization like Miller's and their team of imaging professionals. With the CaptureLife offering, Miller's and their professional photographers are now connected directly to the consumer, making them part of their everyday mobile and social experience. This connection allows Miller's professional photographers to quickly and easily deliver key photographic memories and messages directly to a consumer's smartphone. And once delivered via the CaptureLIfe app, the consumer can connect and share this content with family members and friends, as well as easily purchase additional digital and print products."
About Miller's Professional Imaging
Miller's Professional Imaging is the largest professional lab organization in the United States providing professional prints and press products for professional photographers and in all fifty states and Canada. They have developed a reputation for having the highest quality products, customer service, and technologies in the industry, all of which have contributed to becoming the preferred lab of professional photographers in North America.
In 1939, Bill Miller opened up a small photography studio in downtown Pittsburg, Kansas. By 1964 he was developing and printing for other photographers. Since that time and with twelve building expansions, the Pittsburg facility has grown to nearly 170,000 square feet in size. To meet the needs of the digital age, Miller's built a second, state-of-the-art, 40,000 square-foot facility in March of 2001. In 2003, Miller's launched Mpix, a fully web-based digital imaging lab to service both emerging professionals and photo enthusiasts. In 2009, MpixPro was launched, catering to single-studio photographers looking for price savings and simplicity. Miller's Professional Imaging continues to support established photographers with a full service one-stop business model. www.millerslab.com